Microsoft has responded to the recent health crisis and the possible requirement for the increased number of businesses requiring staff members to work from home, by releasing its paid collaboration tool, Microsoft Teams, free for six months.
There has been a FREE version of Microsoft Teams available since 2018, but the company reserved certain functions for its paid version, available with a license. According to JP Courtois, Microsoft's executive vice president and president of Microsoft global sales "It's some of those paid features that will now be made available to customers for free for six months with a new license. This is in response to the need for a solution like Teams as employees increasingly work from home, self-isolating themselves from the coronavirus, especially in Asia."
The free Teams trial is actually part of a new six-month Office 365 trial for enterprises (an "Office 365 E1 trial," specifically), according to a Microsoft representative. It includes "full meetings, collaboration, and workflow capabilities," Microsoft says.
"At Microsoft, our top concern is the wellbeing of our employees and supporting our customers in dealing with business impact during this challenging time," Microsoft said in a statement. "For many individuals and organizations, Microsoft Teams video-conferencing, chat and collaboration are playing an important role in helping people continue to work and collaborate. By making Teams available to all for free for six months, we hope that we can support public health and safety by making remote work even easier."
There are still some features not included in the FREE version, see below for a summary.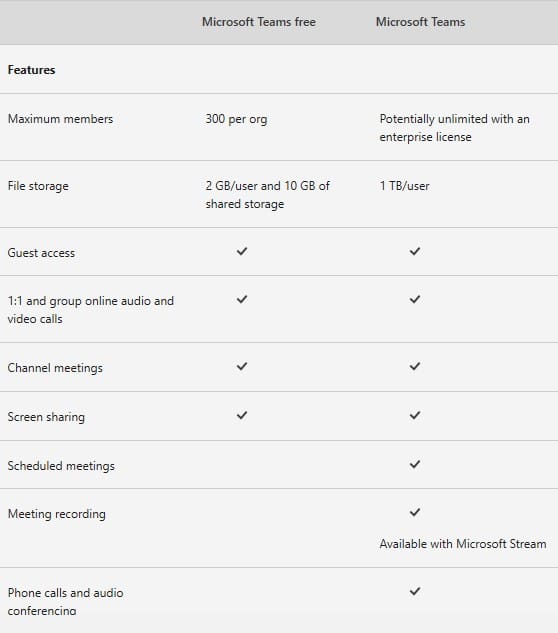 If your business is considering remote working but needs advice, possibly some support, we are here to help every step of the journey. We can offer helpdesk support, training to staff teams, provide expertise and advise on Microsoft licenses.
We specialise in facilitating companies of all sizes in their digital transformation, which means the integration of digital technology into all areas of your business or department. We are Certified Microsoft Partners and have over 10 years' experience in building process-driven digitized solutions.
We deliver out of the box and bespoke Software Solutions architecture, design and development services on Microsoft cloud platform, to include SharePoint, O365, Azure and .NET. We excel in designing SharePoint intranet solutions for our clients and work closely with each client's team to comply with their company's branding and styling.
Related Articles
Subscribe to our newsletter
Liked the article? Leave us a comment!
Your email address will not be published.